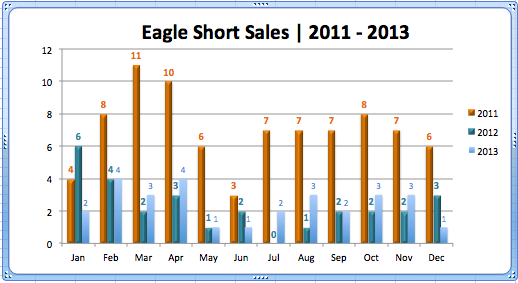 Short Sales in Eagle, 2013 have dropped to a low; the lowest among Ada County cities. As you can see in the graph above, in December of 2013 there was only one short sale in all of Eagle, a 33% drop from 2012, and an 83% drop from 2011. Short sales started off low this year and ended even lower with slight changes throughout the year, all under 5 sales per month. In 2011 there were an average of 7 short sales per month, 2012 4.8, and in 2013 it dropped to 2.4 per month. In total there were 29 short sales in 2013, about half as many sold in 2012 at 58.
As you can see in the graph below, the foreclosure rate in Eagle ended in 2013 at 7.1% of home sales. It decreased by about 20% from December of 2012; a 27% foreclosure rate one year prior. The foreclosure rate in 2012 started at 46.4% and dropped drastically to 8.8% in July of last year. There were highs and lows throughout the rest of the year, but in 2013 the foreclosure rate hasn't peaked above 7.1% in 8 months. Between the beginning of 2012 and the ending of 2013 the foreclosure rate dropped by 39%. This is a reflection of the quick real estate recovery we saw in 2013.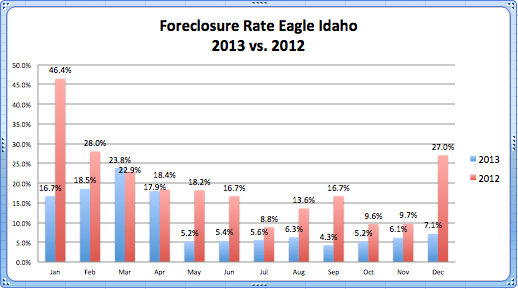 The graph below gives us a snap shot of all home sales separated by type in 2013. In December there were 2 bank owned sales, along with the one short sale we previously discussed. That number only varied slightly through the year in comparison to the traditional home sale number. In December, 93% of sales were traditional, 2% were short sales, and 5% were bank owned.